Cosmetic dentistry include fields of dental treatments that revitalizes, restores and beautify your smile. Cosmetic denal treatments include simple and quick treatments such as in-office teeth whitening and home bleaching kits to having more comprehensive treatments such as full mouth rehabilitation with dental crowns or veneers.
At Kitcha Dental Clinic cosmetic dental clinic, we have an on-site dedicated dental lab that fabricates your porcelain veneers and all ceramic crowns. This enables quick treatment timing, quality control and immediate adjustments at your chairside. We are one of the few dental center in Thailand using CAD/CAM and digitalized technologies for Digital Smile Design (DSD) to personalize your smile for you. 
Dental treatments within cosmetic dentistry of asethetic dentisty
TEETH WHITENING
Brighten and whiten teeth that is non-invasive, safe and quick
DENTAL VENEERS
Thin laminates commonly used in smile makeover over front teeth
CROWNS AND BRIDGES
Ceramic crowns restore damaged teeth and covers irregularities and chipped teeth
INLAYS AND ONLAYS
Restore large tooth cavities with porcelain or glass ionomers on teeth
COMPOSITE FILLINGS
Replace dark amalgam fillings with composite fillings
DENTAL BONDING
Use of composite resin to restore chipped teeth, close small gaps, as direct veneers or with teeth re-shaping
Smile with Confidence
Veneers. Ceramic Crowns. Tooth-colored Fillings.
Teeth whitening brigthens and whitens discolored or stained teeth. Your dentist does a first evaluation to determine if teeth whitening is suited for you. Based on your requirements, you can whitening your teeth using
In-office teeth whitening : done by a dentist at the dental clinic
home bleaching : kit taken back home done based on instructional use by your dentist
Dental veneers are very thin laminates made of porcelain or composites placed over the front surface of teeth. Dental veneers are commonly done in smile makeovers used to change color, shape, size of the teeth or cover any irregularities in teeth. Tooth veneers looks natural and with today's material specifications provide long-lasting aesthetics. Dental veneers types include:
Porcelain veneers
Super-thin veneers
Composite Veneers
Hybrid Veneers
Digital Smile Design (DSD)
Kitcha Dental Clinic dental hospital offers Digital Smile Design (DSD) for smile makeover with porcelain veneers. Computerized guided digital planning software by DSD allows you're cosmetic dental specialist to design and plan your veneers to suit your specific facial profile and smile. Veneers are then digitally customized and fabricated in precision to your pre-determined expected post-treatment results simulated by DSD.
Kitcha Dental Clinic is one of the few dental clinics in Thailand with a Digital Smile Studio composed of top DSD expert specialists.
Dental Crowns And Bridges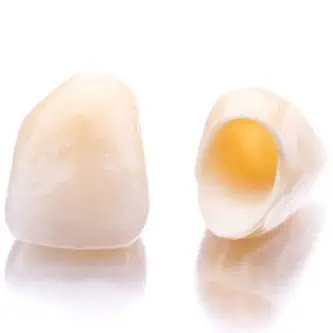 Dental crowns are capping porcelain pieces used to encase damaged or severely chipped teeth. Crowns are commonly done to rebuild broken or decayed teeth back to their original shape. Tooth crowns are also done to strengthen teeth after root canal treatment has been completed to prevent long-term breakage.
A conventional dental bridge consists of at least 3 or more dental crowns to replace missing gaps between adjacent supporting teeth. Types of dental crown and bridge materials include:
porcelain-fused-to-metal crowns (PFM crowns)
all ceramic crowns
Ceramics has varying strength and brands. Common brands of all ceramic crowns and bridges:
IPS Empress eMax
zirconia crowns (Cercon Smart Ceramics, 3M Lava, Procera)
Kitcha Dental Clinic has on-site digital dental laboratory for all ceramic teethworks that allows for shortened treatment timings and immediate chairside shade selection / adjustments.
Inlays, Onlays And Overlays
Inlays, onlys and overlays are component pieces used to fill in empty spaces after cavities or damaged portion of tooth has been removed. They act similiar to dental fillings but are made of porcelain, glass ionomer, alloys or gold relative to amalgam or composite resins used for fillings. Inlays, onlays are normally done to restore teeth with cavities too large for standard composite dental fillings.
The most common material for inlays, onlys and overlays used today is porcelain that provides good strength and aesthetics. Porcelain inlays and onlays mimic tje translucency and color of natural teeth making them aesthetic choices.
Tooth-colored fillings also known as white fillings uses composite resin in filling cavities. Amalgam silver fillings are commonly removed and replaced with composite dental fillings for better esthetics and safety.
Additional protocols for safe removal of amalgam silver fillings based on IAOMT guidelines could be requested at dental hospital. The Safe Mercury Amalgum Removal Technique(SMART) include the using of rubber dams, external oxygen source, high power suction units and air ventilation system.
Dental Bonding involves the use of composite resin or tooth-colored cement hardened with a curing light in restoring damaged chipped teeth, closing small gaps between teeth or placed over teeth surfaces as composite veneers to cover teeth irregularities.
Chipped Tooth
Diastema Closing
Composite Veneers
Teeth Reshaping
Dental bonding may also be used during dental contouring where your dentist shapes your teeth and uses tooth-colored composite material to sculpt and shape the teeth. Teeth reshaping may be accomplished using various cosmetic dentistry treatment methods. Consult our cosmetic dentist on a treatment plan on what migh be suited for your case.
Kitcha Dental Clinic is one of Thailand's leading cosmetic dental center. Having received awards within the asia pacific region as a top dental aesthetic provider, our cosmetic dental clinic utilize the latest digitalized technologies such as digital smile design (DSD) and has a dedicate on-site dental lab within our dental hospital for our porcelain veneers and all ceramic restorations. Our resident cosmetic dentists is the country's top master expert in digital smile design and the only cosmetic dentist in south-east asia with a double american board cerfication in dental aesthetics. Our team of cosmetic specialists are well experienced amercian board certified dentists. Many international patients, celebrities, actresses and models have come to Kitcha Dental Clinic for their smile makeover as dental patient testaments on the quality and delivery of natural-looking aesethetics.
Bangkok cosmetic dentistry composes of a multitude of dental treatment that aims to restore, beautify or enhance your smile. Dental treatments include teeth whitening, dent
al
veneers, dental crowns, inlays and tooth colored fillings, composites bonding that fixes chipped or close small gaps. Orthodontics braces may sometimes be used in conjunction with cosmetic dentistry for more complicated cases. For an standards dental makeover, transformations may be done within just one week. Get a complimentary consult a draft treatment plan with our top dentists without any obligations to start treatment.