Kitcha Dental Clinic Chiang Mai, Thailand
Kitcha Dental Clinic Chiang Mai, Thailand
Our Dental Clinic. welcomes residents and visitors seeking dental treatments in Chiangmai, Thailand. Our dental office offers an online consultation, full mouth treatment planing and promises a valuable service with warranty.
We dedicate to provide you with the optimum dental clinic with a relaxed environment. Our main goal is to provide our patients with safe, clean, and quality dental services within our state-of-the-art facilities in the relaxing environment.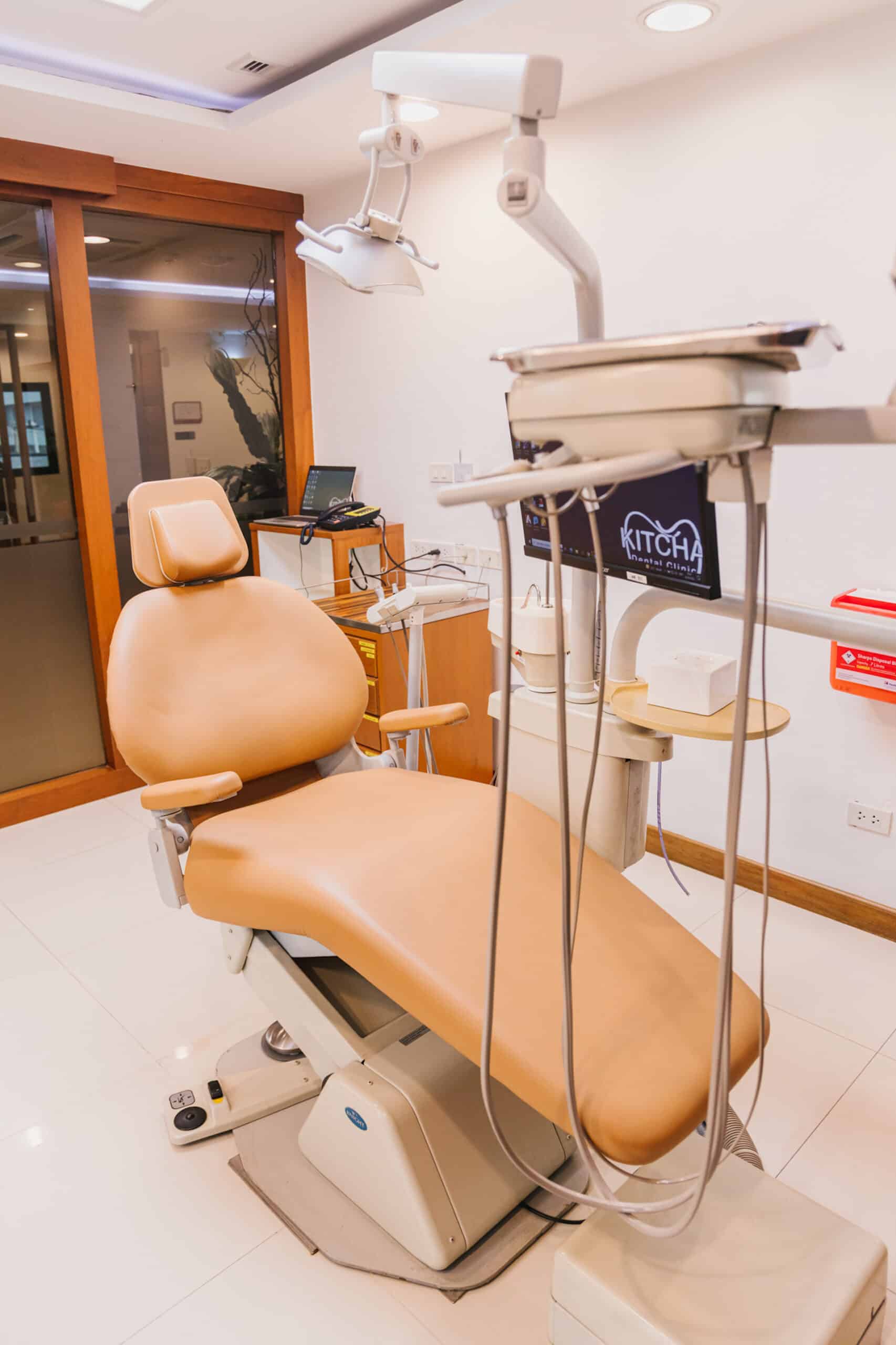 At Kitcha Dental, the Chiang mai Dental Clinic, we provide Advanced Dental Services in,
Dental Implant Center
Our highly qualified implantologists with high dental implants success rates. 
Equipped with advance dental implant technologies,  digitalized 3D CT Scan for dental implant treatment. Our Dental Implant Clinic in Chiang Mai, Thailand provide only an ADA approved product with the long term approved implant success rates.
Dental CT-scan Center
CBCT Scan is one of the essential equipment in locating the best sites for implant placement and increasing long-term success rates for dental implant treatment.
At Kitcha Dental Clinic, we possessing and utilizing 3-D Dental CT Scan for every dental implant treatment case such as digital guided implant surgery.
GBT
New Experience of Dental Cleaning at GBT Certified Dental Clinic.
Guided Biofilm Therapy (GBT) is a dental cleaning technique that removes not only dental plaques but also biofilms, which is the cause of tooth decay and gum diseases.
Biofilms or dental plaques, are always found on the surface of teeth. When saliva gets in contact with a clean tooth surface, a substance from the saliva accumulates into a thin layer of film (biofilm) coating the surface. Over time, bacteria in the oral cavity will form. If those biofilms continues to accumulate in the long run, they develop into plaques and become calcium deposits.
Brushing your teeth everyday correctly will remove the biofilms before they become thicker plaques and increases the accumulation of bacteria. Properly brushing your teeth therefore, effectively prevents tooth decay and gum diseases.
Need a Doctor for check up ? Call for an Emergency Services !
Our Client Happy Say About Us
The highly professional dental clinic in Chiang Mai where I get excellent dentistry services. I am a Canadian. I come to Chiang Mai occasionally and have been a patient of Dr. Kitcha since 2005.
I visited chiang Mai to see my dad from the UK. Came across kitcha dental clinic and went with them based on the good reviews plus they do non adrenaline based injections which I have in the UK. I had a crown done and also my father went in to check his implants and clean them. My dad has dementia /Parkinson was very anxious and struggling due to his symptoms . Dr pawak was amazing so patient with my dad, adaptable to support my dad , talked though both procedures so it was clear and I didn't feel discomfort or pain . Would highly recommend this clinic
I was very impressed with the dentist at this office. Very professional, took the time to explain my x-rays to me, and explain the process of tooth decay. Will definitely be back for all my tooth needs
Aniyah Brooks
23 April 2023
We received the most personable and professional care we have ever gotten at a dental clinic in Chiang Mai. The dentist was thorough and truly listened to our concerns. We highly recommend Kitcha!
Aubree Rogers
23 April 2023
very good atmosphere n clean place,,very experience (doctor pawak) ,i have done 9 implant tooth,2 veneer tooth all by him,,very well done n really painless,,looking for a good dentist,he for sure
Talia Norman
23 April 2023
Kitchen Dental Clinic was a very modern, clean and pleasant dental experience. I am happy with the work I had done and will now make this the clinic of my choice. All of the staff were pleasant and efficient.
Winter Adams
23 April 2023
Excellent and prompt service, very professional dental staff.